The customs officers prevented an attempt for smuggling 27,800 counterfeit Euros from the country through the border crossing Tabanovce.
On 13.03.2017 at about 7.00 a.m. a passenger vehicle with Serbian license plates, driven by a Serbian citizen arrived for exit from Macedonia through the border crossing point Tabanovce. Asked whether he had anything to declare to Customs, the person gave a negative answer. Despite his statement, due to suspicion, the vehicle and person were selected for detailed inspection. During the inspection, in the arm rest compartment between the front seats, the customs officers found a bundle of Euros tied with a rubber band wrapped in white paper.The customs officers noticed that there are 39 notes of 100 Euros, 39 notes of 200 Euros and 32 notes of 500 Euros had the same serial number, as well as 32 pieces in denominations of 500 Euros also have the same serial number. Inspected with a UV lamp, it was found that the notes are with poor quality and are counterfeit. After the interview, the Serbian citizen was arrested and handed over to the inspectors of the Investigation Department of the Customs Administration.
From the preliminary investigation, evidence was collected indicating that the suspect prepared the counterfeit money himself and printed them on a color printer on plain paper. This was also confirmed by the National Bank of the Republic of Macedonia.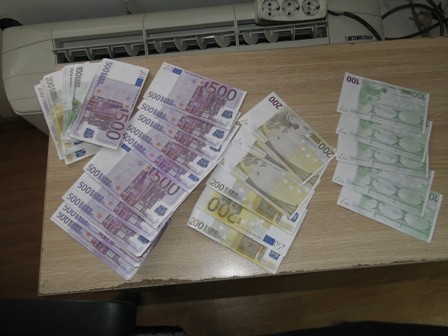 The customs Administration brought criminal charges for "Counterfeiting Money" against the suspect. The suspect was taken before a pre-trial judge in the first-instance Court Kumanovo who imposed a precaution measure temporary confiscation of the passport. The suspect is obliged to appear in court twice a week.